PROUD OWNER'S PHOTO PAGE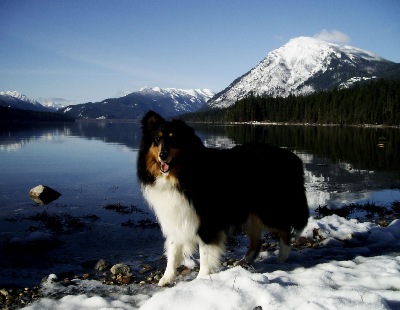 Flynn, 1 year old, Chaps x Macy..Mason grandson, Anne..Wash.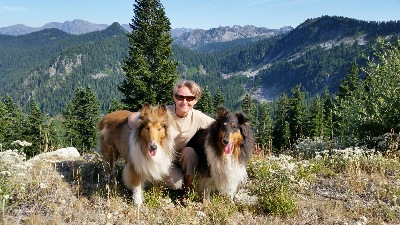 Ann with Trevor and Flynn, Washington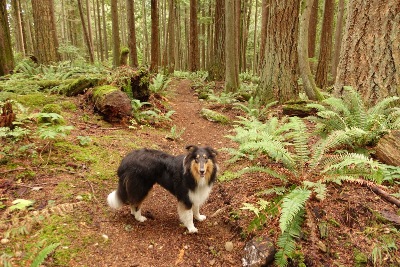 "Scout," from Tami in Washington.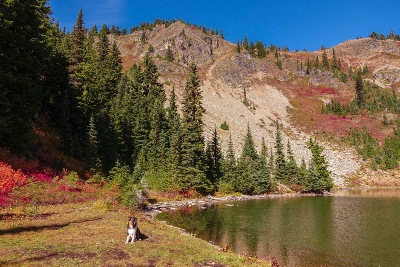 "Scout"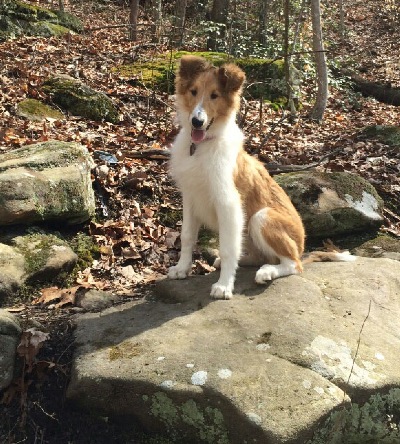 "Stella," West Virginia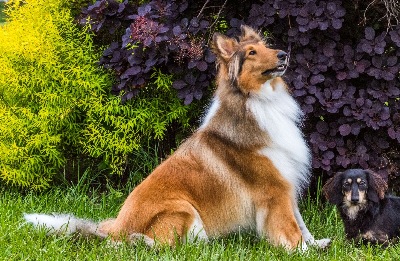 "Ruby" earned her Canine Good Citizens title.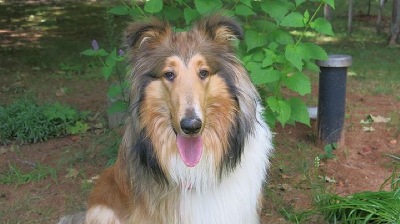 Thank You from the the bottom of our hearts ! ! ! She is the most beautiful, sweetest and smart girl ever ! ! We LUV her to the moon and back she is our world ! ! We cant believe Maicee is a year old today ! Once again THANK YOU ! If it weren't for you we wouldn't be so greatly blessed ! ! Debm Wisconsin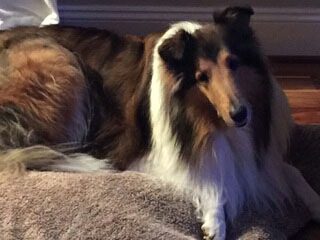 "Miles" Virginia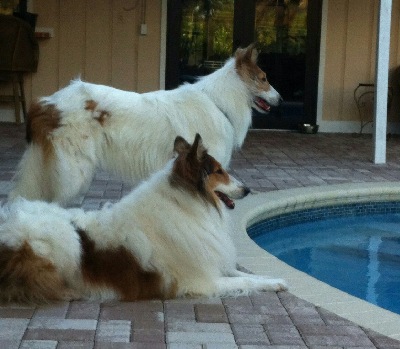 Jack and London, Florida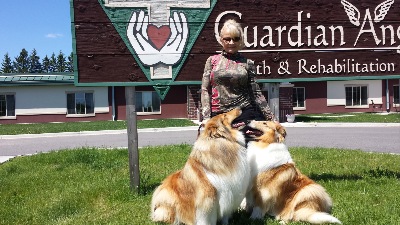 Hi Denise!I am attaching a picture of Lad and Dreamer during one of our nursing home visits. Everyone "oohs" and "aahs" when we walk through the halls. They certainly are a big hit with the residents and staff!I also noticed that you just had a Mason litter! Congratulations! I am so glad it worked! All of the puppies look great! I would love to have another Mason baby. Lad is SO smart!! Would you be planning a Mason litter at another time? Take care! Candy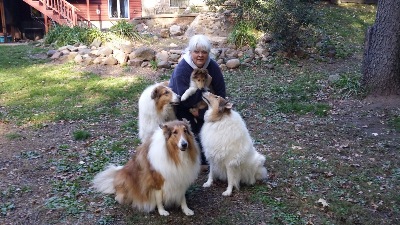 Lynne with her four Mason kids, Harpo, Fiona, Quinn and Ferguson.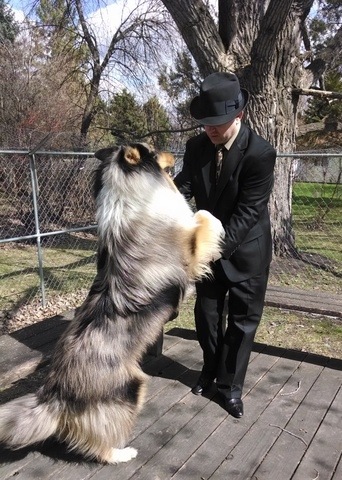 Loki and John "dancing," Grand Forks, ND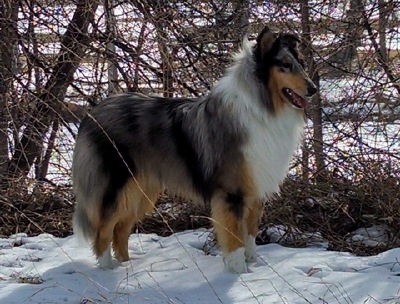 Loki, (Macy x Pace) John and Lisa,"I didn't know how empty our life was before he came!"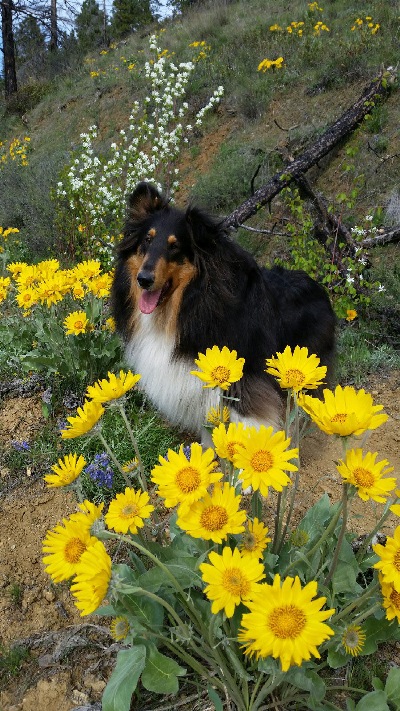 "Flynn" Washington.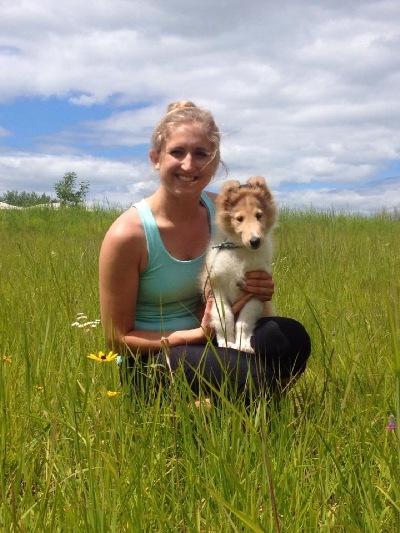 Hope and Daniel, Fergus Falls, MN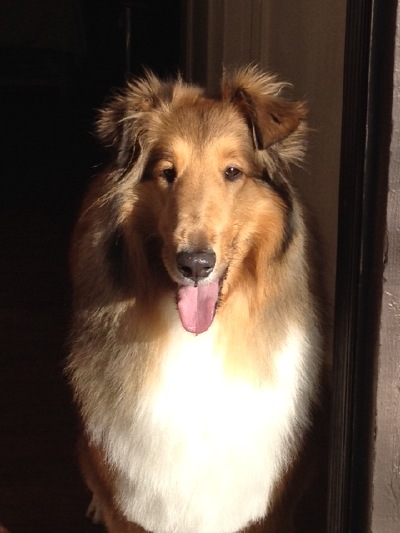 "Shadow" Here he is, Denise, at 4 yrs old. Now 108 lbs. I told his vet the size is in his genes....mighty proud of him. Very mellow and quiet. Our perfect home buddy.



Rene, California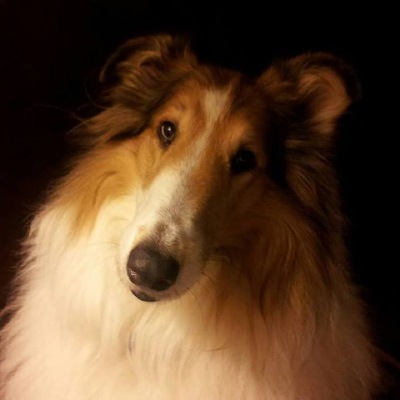 My Fiona. Her Dad made the Lassie remake, kinda by accident and ended up starring in it. Lassie (2005). Her Dad was Mason, a farm bred collie from MN. (Northern Classic Collies.net.) The best dogs I've ever had in my life. Big. Smart. Sweet. Lynne, Minnesota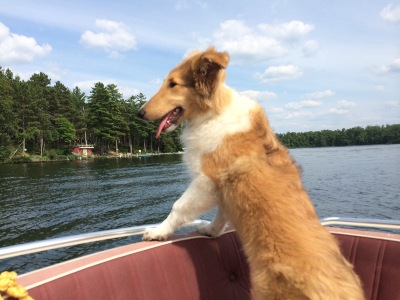 Hi Denise,
Thought I'd shoot you a picture of Raleigh. She's twice as big now as when we picked her up! The vet said a couple weeks ago that "this is going to be a big dog! Hope you're prepared for that!" She is just adorable, her and our 3 year old cat Barney are now best friends. You can't tell who instigates the rough play but they run around together all day. Wears me out just making sure one or the other isn't getting too rough.
We took Raleigh up to the cottage a few weeks ago and she didn't like the water at first. Then our neighbors showed up with a 9 month old Labrador retriever who loved the water and once Raleigh saw that, we couldn't keep her out. Those two played in the water together all week! Larry, Milwaukee, WI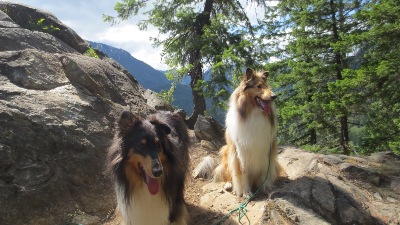 He is the best adventuring partner I could have dreamed of having!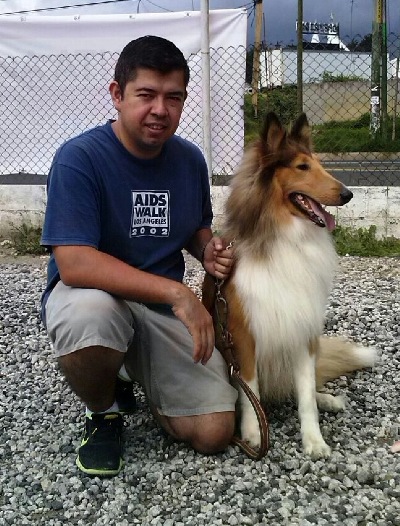 Hi Denise
Hope everything is going well in your family, I just want to share with you pictures so that you can know how beautiful and healthy is Koko we are so happy with him
Regards
William G. Guatemala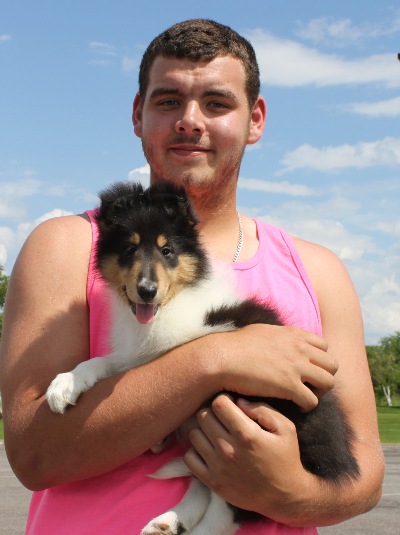 He's perfect and drop dead gorgeous. I can't believe we've lived without a collie in our life..such the perfect pal..probably the only thing better than one of your collies would be two...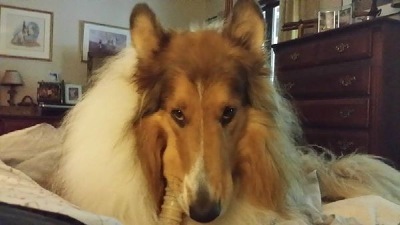 "Quinn and Fiona say good morning. I love and adore these brilliant and big collies. Thanks again to their breeder, Denise Schroeder, for reminding me collies were my first favorite breed." Don't miss Denise's Mason in "Lassie" (2005). It's making the rounds on HDnet channel and others. Lovely movie filmed in Ireland with Peter O'Toole, Samantha Morton, Kellie Macdonald and Peter Dinklage. There never was a better dog actor than the then 2 year old MasonLynne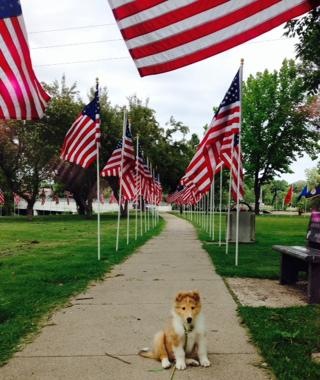 "Daniel," 4th of July, from Hope, Fergus Falls, MN. Thanks for the wonderful pup!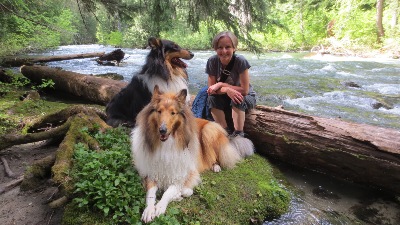 Ann with Flynn and Trevor on an adventure in the beautiful Washington mountians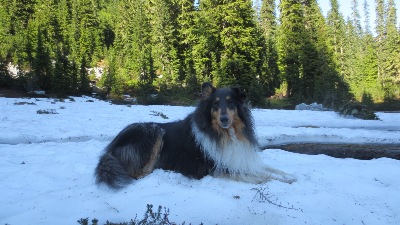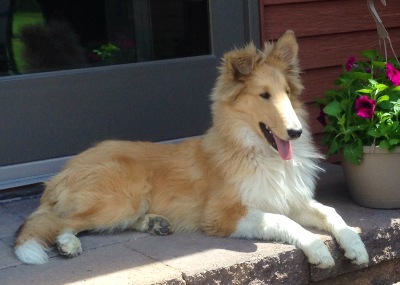 "Lassie," Kramer, North Dakota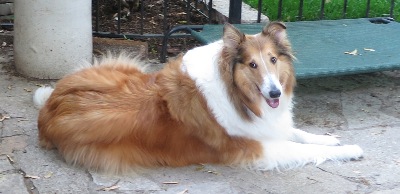 "Cali" (Mason x Natalie) 6 years old, Elyse and Bill , Chicago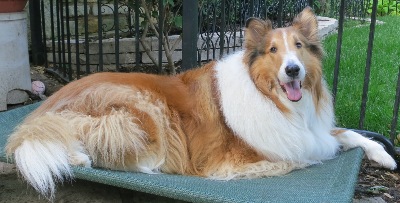 "Shea" (Mason x Natalie) 7 years old, Elyse and Bill, Chicago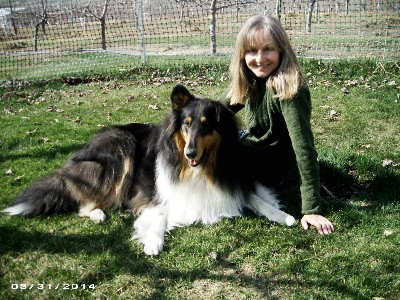 "No matter how big Flynn gets,he will always be my baby!!" Ann,
Washington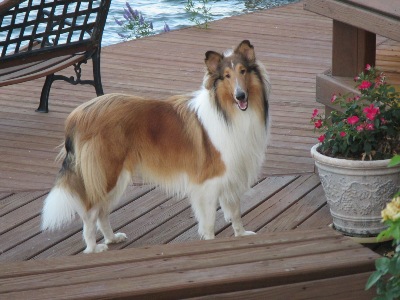 "Honor" Houston, Texas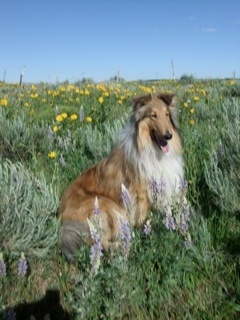 Isn't my guy just gorgeous? For your information, he is healthy, intelligent, stubborn, sassy, especially athletic, and absolutely packed with personality.
Chisum is also, beyond a doubt, the most fun, interesting friend I've ever had. His face exhibits more expression than do most of us humans; he jumps straight up several feet when he's excited; he hurries to me whenever he's concerned about me. What a charismatic character he is! I am so glad Chisum is here with me! He is going to be a fine, responsible companion. Thanks for breeding such a fine guy as my Chisum. I'm lucky that you lined him up for me! Wanda, Idaho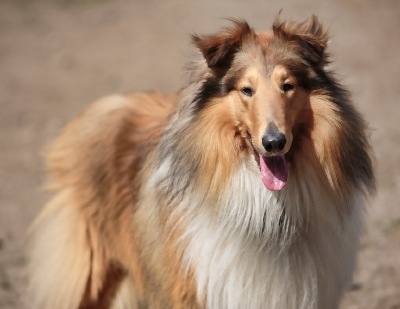 Hello Denise ~ This was taken this afternoon at the Dog Park. Duke loves to run and run, and a photographer captured his joy! Wanted to share the pleasure! Appreciatively,Susanne Hollyfield, Was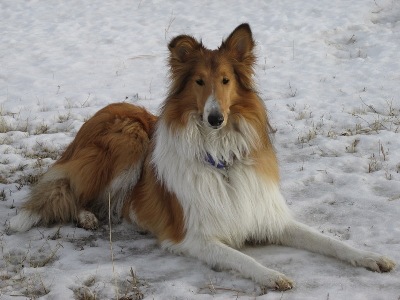 Thank you for giving me such a good dog. I truly love her. Again, THANK YOU!Sincerely, Stephanie Johnson & Little Classic Lina, Wyoming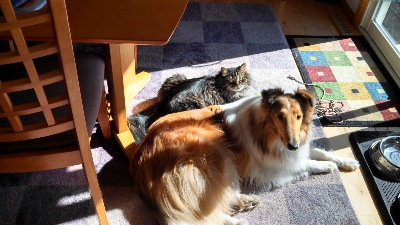 Hi Denise.Thought I'd share this picture with you. We really enjoy Embrace. She fits well into our family.Marte Kitson
Northern MN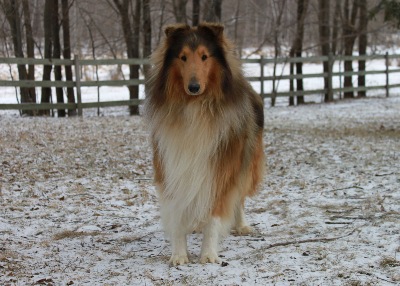 Oliver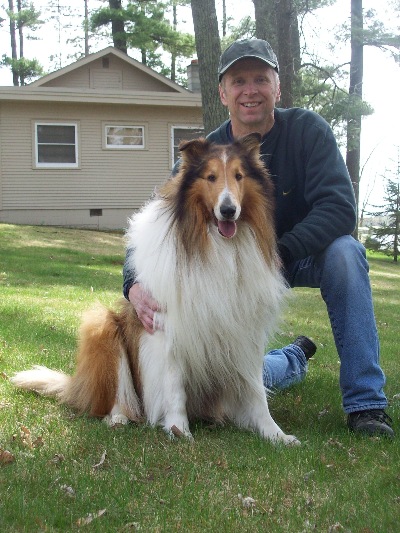 Todd and Copper, Bemidji, MN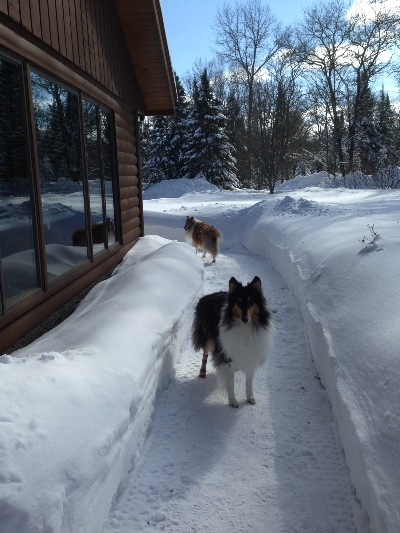 "Ditto" What an absolute delight he is to have! He is as comical and entertaining as Wins is stoic and serious. They make a great pair and get along perfectly. Duluth, MN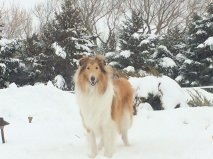 "Copper" The boys are adjusting fabulous to their life on the lake in Southern Minnesota:) I am so very, very lucky to be blessed with amazing companions... Lisa L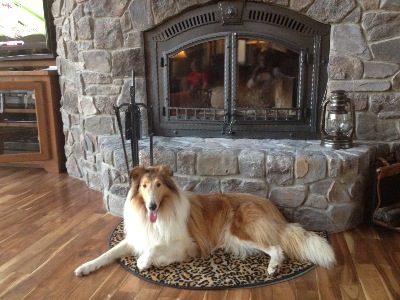 "Copper"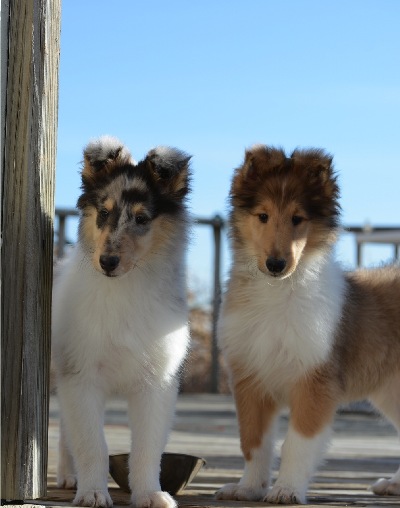 "Antonio and Ruby" The pups are signed up for puppy kindergarten which begins in two weeks. It's a blast and our last three dogs have been through the course. These little guys are so much fun, thanks again! Deb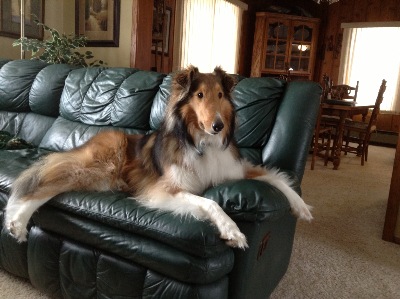 Everyday I'm so thankful to have Barron. He is so sweet and good and brings so much joy to our lives. Here is a picture taken today. He is a little spoiled but that's okay.Mary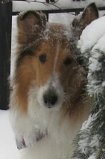 Both Cali and Shea are happy and well and every day is a happy one with
them around me. Elyse, Chicago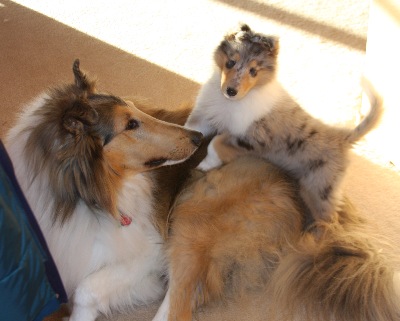 Jake and Keller, South Dakota.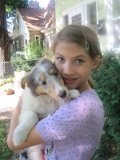 Izzy is doing great! She loves everyone, and anyone who meets her expounds on what a beautiful and nice dog she is. She is not shy at all. She is very smart. We have had her in puppy class and are moving to a Level 1 class in training. Judith, L. DVM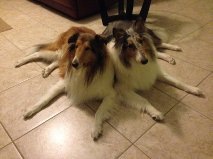 Lexie and Harley ... He is a very big boy! Thank you so much for our treasures! Florida

"Angus" The Dicksons. International Falls, MN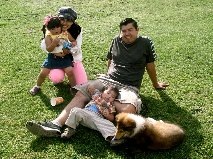 Picture with my family spending some quality time, we are so happy with Koko. Guatemala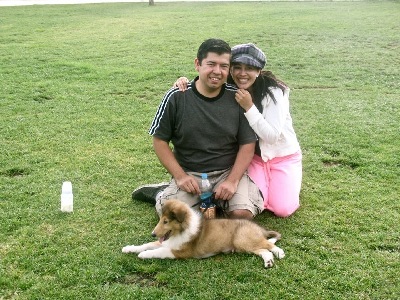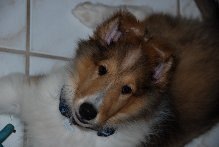 HONOR. His temperament has been great, he has been going to the clinic with me on Saturdays the last 3 weeks. He has gotten many visitors and reacts to the strangers well. He has been doing well with training. The staff love him (and are spoiling him a little too much). My brother's golden is his best friend. They play a lot with each other. Thanks again, he is a wonderful pup and I couldn't be happier. W. Greg Upton DVM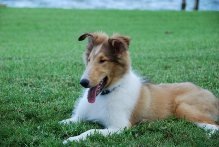 Honor, Houston, TX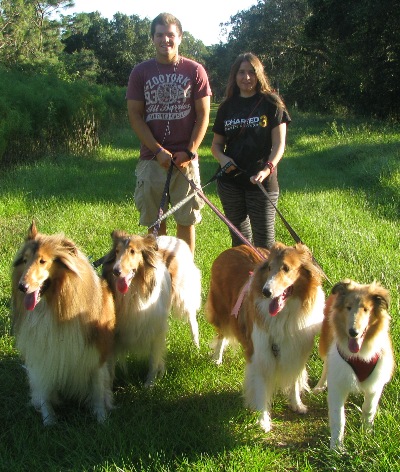 Jordan and Merissa with CLOUD, FLORA, PRINCESS AND CYRUS, Clearwater, Forida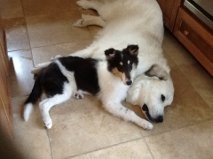 Hi Denise,

Thought you might like to know that Tagg passed his AKC STAR puppy test today...well on his way to a CGC.

He is such a smart boy, and he is also taking a beginning agility class..low level equipment, but he seems to enjoy it. He likes the tunnel, and the a-frame the best. A little apprehensive on the dog walk, but he is willing to give it a try. He likes to watch the other dogs when they are on the course...such a collie.

He is getting big...53 lbs, and has to duck to run under his big sister Lily. Tagg loves toys, and thinks tug of war is the best game ever.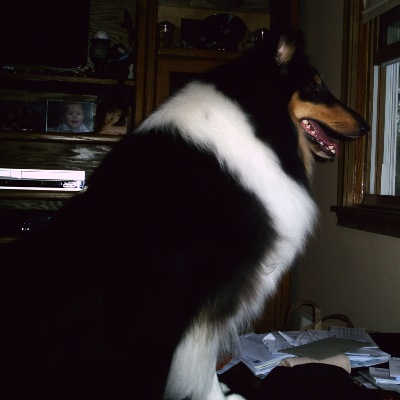 Dutchess, St Paul, MN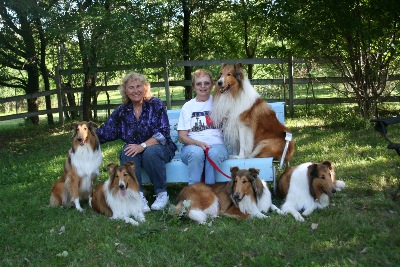 Mary Jane and Katie West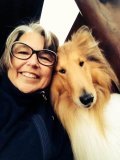 Just thought you would be proud to know what a great companion Danny Boy (aka Dandy) is! Now that we live down in the Ozarks of MO, Danny and I love to go for walks in the 25 square miles of woods surrounding our house. Danny sticks right by my side unless he needs to scare off an occasional varmint. Yesterday, we were nearly done with our walk when he scented a coyote. I was too intent on collecting bits and pieces for a fall wreath I was making to pay much attention and figured he would scare off whatever and then return to my side. The coyote had other plans and headed toward where I was gathering acorns. The coyote got within about 30 feet of me and realized I was there so he curled under his tail and snarled. Danny came flying at him and bowled him over in a flurry of fangs and fur! The coyote managed to escape and Danny would have pursued him but I called him back. For a little collie, he has a lot of heart! Fortunately, no blood was shed, and Danny received a hero's welcome from my husband who was thankful his foolish wife has a brave protector by her side in the wilds of the woods! side bar:I have a friend in town who watches Danny for us if we go somewhere that doesn't allow dogs. She likes to take him for walks through town to show him off to all the towns people because he is so beautiful and gentle! Love my buddy, Danny Boy!Sincerely,Carol Sandblom Bishop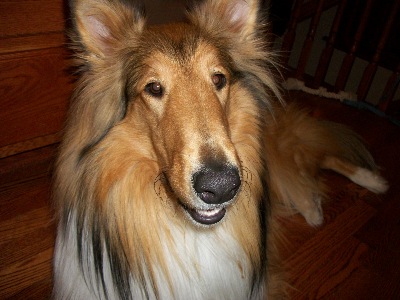 Skye, Pam Fitzgerald, Minnesota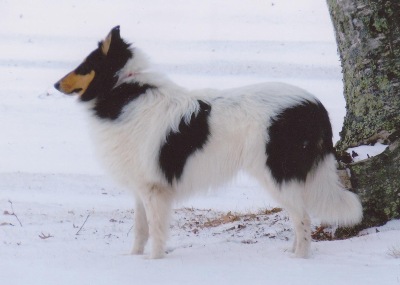 Duke, 7 mos..Diane, Park Rapids, MN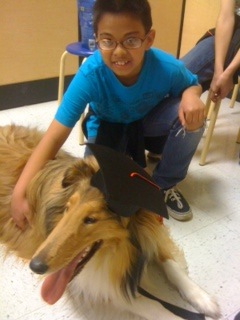 Hi Denise,Very sorry to hear of Mason's passing....I just went to your website now and found out.here's his son Shadow, with my son Miggy, graduating from Obedience internediate training. He is now 2 1/2 yrs old and very lovable. A loyal home companion and family member!I wish you and all your beautiful collies the best!I am lucky I have that Lassie movie that stars Mason on DVD....we watch it to see Mason and show Shadow his dad.Rene, San Mateo, CA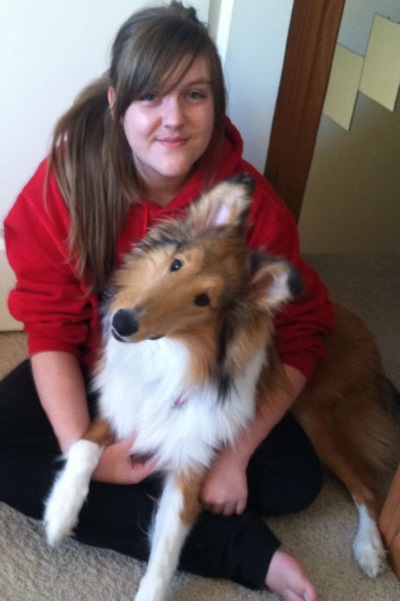 Hannah and Murray, Lakeville, MN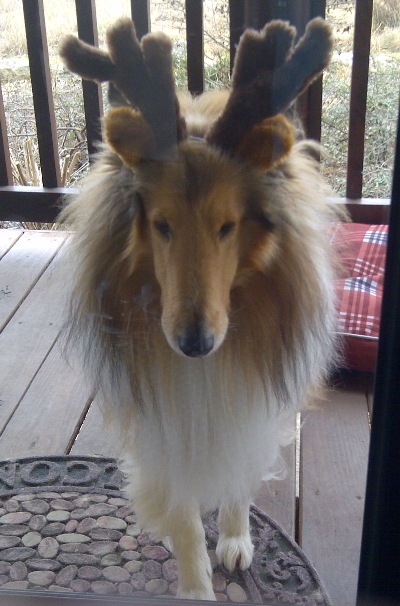 Collie Deer-est, Danny Boy, Carol, Missouri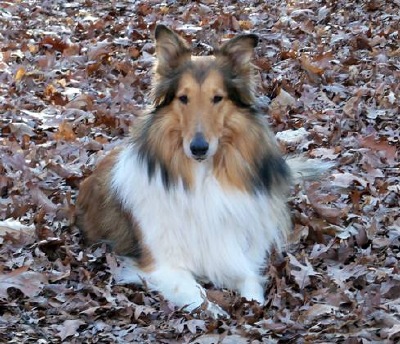 Windy, 6 years old, daughter of Mason and Natalie..Michael , Wisconsin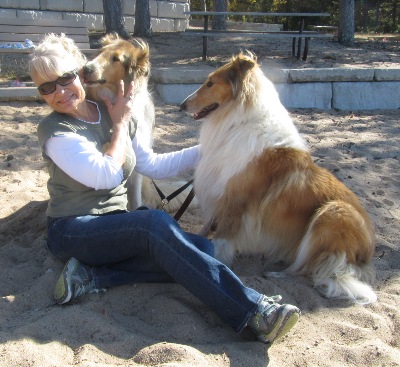 Hi Denise!Here is a picture of the "boys" that was taken this fall during a hike at a local state park. As you can see, they are lovers! I have been taking both Lad and Dreamer to the nursing home as therapy dogs. Everyone oohs and aahs at their beauty. As you can see, Lad looks a lot like his daddy, Mason. People call him "Lassie"! Thanks again for such great pals. Candy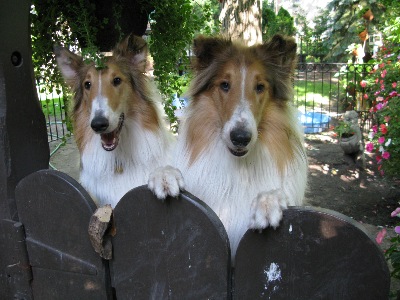 Cali and Shea, Bill and Elyse, Chicago, IL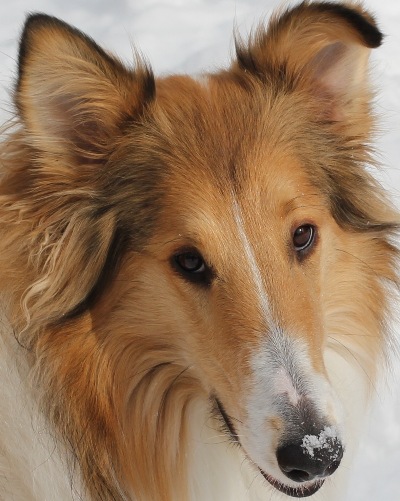 Cali, Elyse and Bill, Chicago, IL This photo won a photo contest! Good Job Elyse and Bill!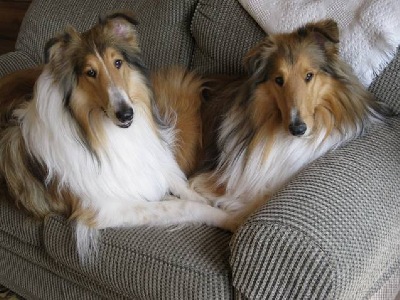 Jack and Max, Lucy and Jon Normann of Minnesota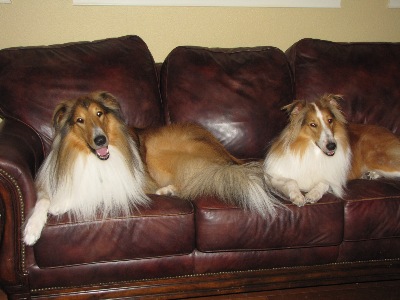 Miles and Roxanne, Florida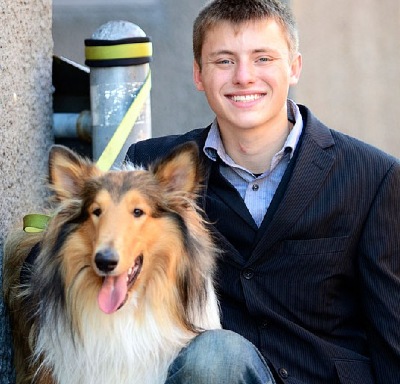 Ryan and Shamus, Senior Pictures, Sartell, MN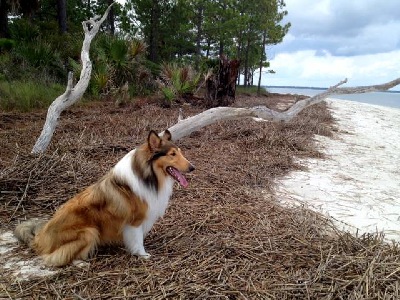 Shamus, Hilton Head, SC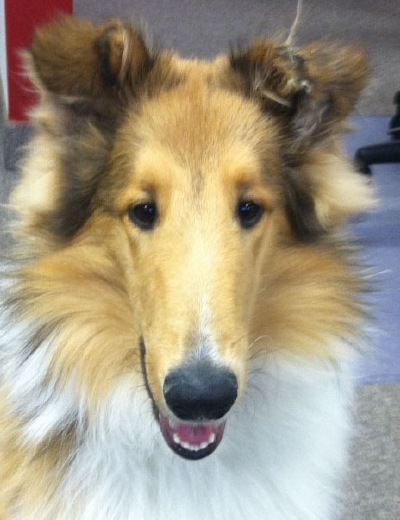 Murray, Anne and Hannah, of Lakeville, MN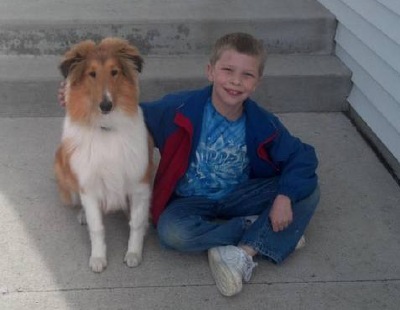 Sophie, Fargo, ND. We truly have fallen in love with her and can't imagine life without her. As you can hopefully see from one of the attached pictures she has bonded very nicely with our son and has become a great friend and companion for him - just as we had hoped.Thank you again SO MUCH for being willing to help us with bringing this dear soul into our family.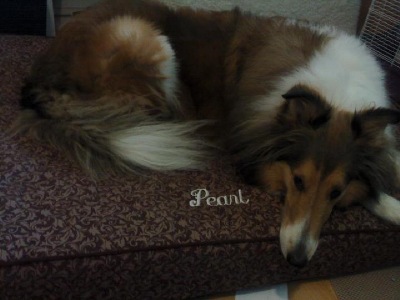 "Pearl" Rachel, California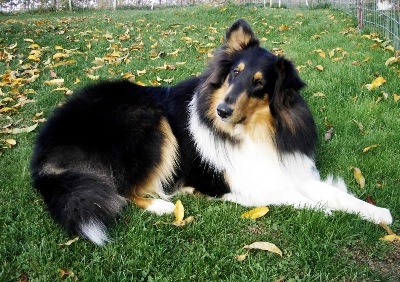 Flynn, Ann Washington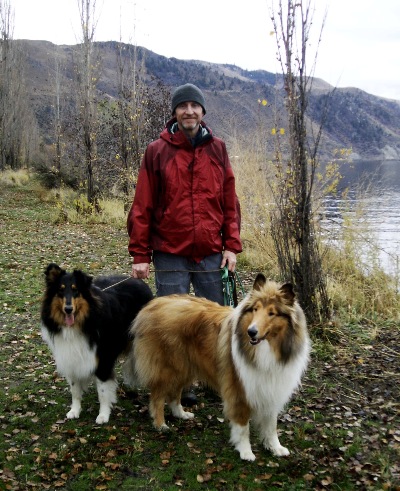 Kevin with Flynn and Trevor, Washington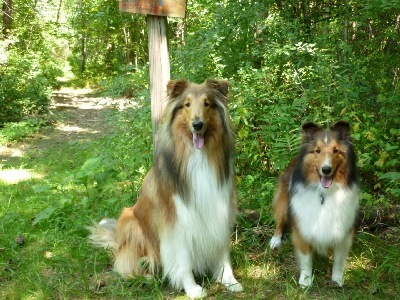 Cindy Eadie, New York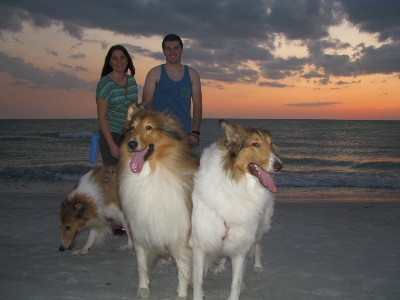 Patty's collies, Florida..These collies are
the joy
of my life and I love them with all my heart and soul.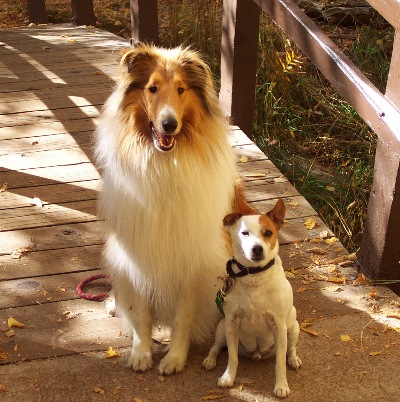 Judah and friend, Utah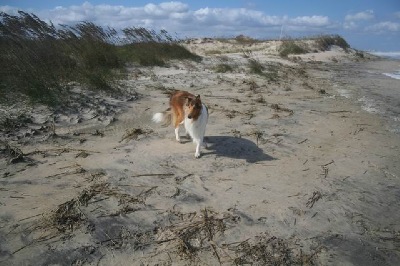 Miles, Virginia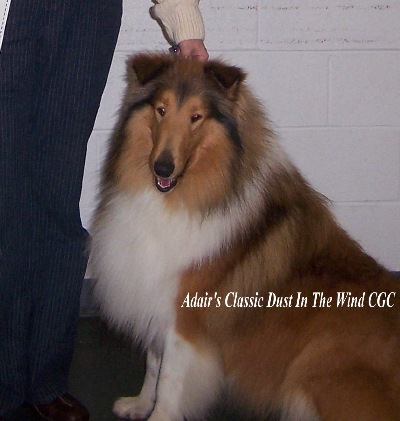 Dustin, Melanie, Kentucky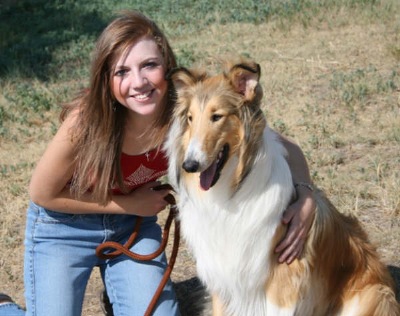 Riley and Danielle, Colorado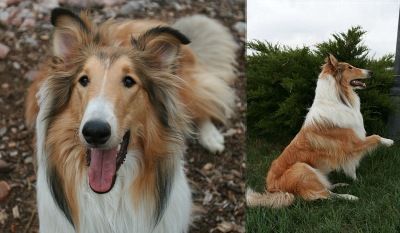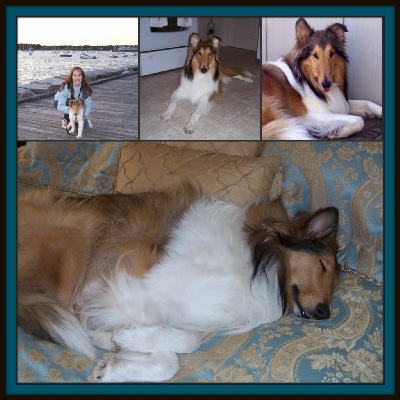 Cleo, Rhode Island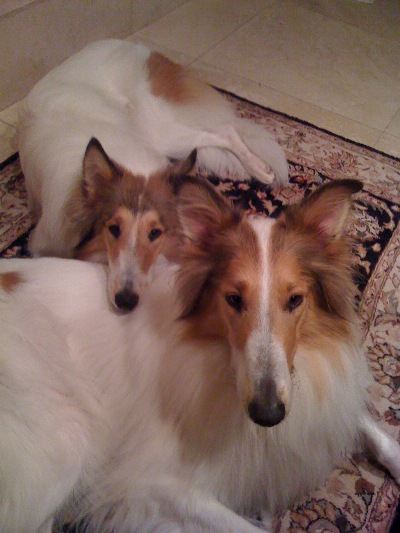 Jack and London, Stefani, Florida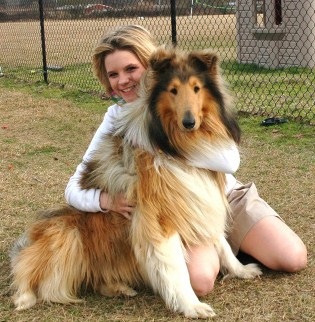 Oliver and Kayle, Shreveport, LA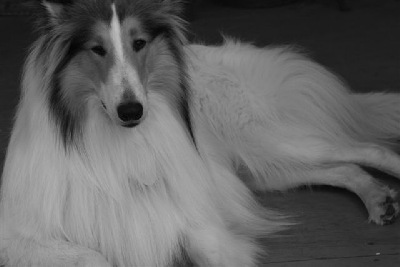 Lucky, Alabama