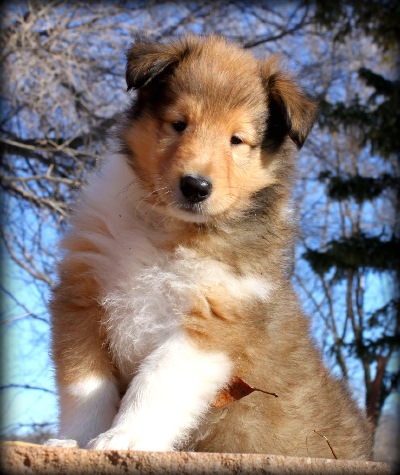 We are dedicated to the breed with the goal of improving quality as defined by the Collie Standard and working towards elimination of major hereditary defects. The majority of our puppies have been sold as family pets on limited AKC registration and must be spayed or neutered. We are very proud of the important role these collies have played in the lives of their new owners. Our philosophy is that only the very best quality dogs should be used for breeding purposes, and breeding should only be done by those with the knowledge, experience, time, space and money to do it properly. We refuse to deal knowingly with unethical dog breeders, dog retailers, and dog wholesalers; or sell to any buyer where there is reason to believe the puppy or dog will not receive proper care. We screen all potential buyers who may be asked to fill out a questionnaire. Please tell us about yourself and why you would like a collie. We normally have about 4 carefully planned litters per year with waiting lists for these puppies. Some of the health tests we do on our breeding Collies include MDR1 (collie drug sensitivity), CERF (eye certification by a board certified veterinary ophthalmologist) and/or DNA testing through Paw Print Genetics.

Collie contract:

Should Collie be determined to be in ill health, the cause of which is clearly attributable to the Seller, the Collie may, upon signed written diagnosis from said veterinarian, be returned for refund of the purchase price within two weeks of purchase. The Collie is guaranteed to be free of any hereditary/congenital defects that render the Collie unsuitable as a pet for two years. Written diagnosis from a licensed veterinarian is required at which time a replacement puppy will be given as soon as one becomes available, however, the Seller is not obligated to refund any or all of the purchase price or deposits. Deposits to hold puppies are nonrefundable. Seller shall not be held responsible for the development of non-genetically derived disqualifying faults, diseases or disorders.

The collie will be spayed/neutered as recommendation per veterinarian typically around 8 months old. The Collie is not to be used for breeding with or without AKC papers. AKC papers are sent upon receipt of spay or neuter.

Buyer agrees to provide a life-long commitment, comfortable environment, prompt medical attention, proper grooming and responsible care. This includes keeping this Collie parasite free and up to date with inoculations, proper nutrition, which consists of a good quality professional feed given at regular intervals, and fresh water available at all times. All expenses regarding the Collie, including proper care, veterinary fees, housing, or legal liabilities are the responsibility of the Buyer at whose home the Collie resides.


The Buyer promises to provide a safe environment for the Collie, and never allow the Collie to roam freely without proper fencing or supervision. Buyer agrees that the Collie is not to be left solely in a backyard or kennel or restrained on a chain or rope. The Collie will be allowed to spend substantial quality time with family members. (This is to assure proper development and maintenance of the temperament for which the Collie was bred). The Seller strongly recommends that the Collie be micro-chipped in order to facilitate his/her return if lost or stolen.

If at any time the Buyer can no longer retain possession or wishes to sell or give away said Collie the Seller has first right of refusal on return of said Collie back to the Buyer. The Buyer and Seller will negotiate the cost of the Collie's transport back to the Seller. If the Seller does not want said Collie, the Buyer must get the Seller's approval of the new home for said Collie. Under no circumstances will this Collie be sold, leased, traded or given away to any pet shop, research laboratory, animal shelter, puppy mill or similar facility.



The Buyer is encouraged to contact the Seller if any questions or concerns arise about the Collie, such as housing, diet, health or training. The Buyer agrees to keep the Seller informed of any treatment as it occurs. By the Buyer keeping the Breeder/Seller informed of the life cycle of the Collie this provides us important feedback and information on the health of our dogs. This critical information helps us determine future breeding decisions to improve the Collie breed.


PUPPY QUESTIONS FOR THE POTENTIAL BUYER

1. Have you ever owned a collie? If so, please tell us a little about your collie and your experience with your dog.

2. Do you currently own a collie or other dog. If so how many?

3. What type of collie are you looking for? A pet and companion, a working dog, a breeding quality dog, a show puppy?

4. Where will your collie live? In the house, outside, or a combination of the two? Do you have a fenced yard?

5. Do you prefer a male or a female? Do you have a color preference?


6. Do you currently have a Vet who would be able to verify the care of your current pets? If so please include the name, address and phone number so that I might arrange a call to verify.

7. Are considering breeding your collie? Please note the majority of our collies are sold on limited registration which means they are not be used for breeding.